Pay 4 Play XVI rocks n' raises for CMN!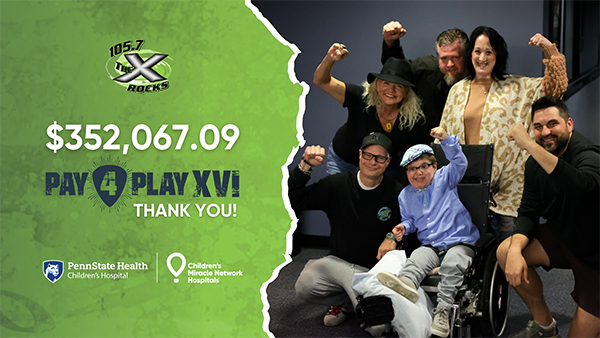 The 16th annual People's Pay 4 Play on 105.7 THE X on Nov. 17 and 18 raised $360,022 for Children's Miracle Network at Penn State Health Children's Hospital. That brings the event's 16-year fundraising tally to over $3 million!
Jen Shade, Nipsey, and Vince from The People's Morning Show hosted the 28-hour event, letting listeners know how their gifts to CMN make a difference, interviewing Miracle families, and even performing antics (like singing a duet of "A Whole New World") in order to raise money for CMN. Listeners requested songs to be played on 105.7 THE X in exchange for donations. Fundraising partners presented totals for funds raised over the last year, and patients and families shared their medical journeys, including the Grumbine family from Harrisburg, Pa.
"You always hear how CMN gives kids the gift of growing up, but we, as parents, have been given the gift of seeing him grow up," said Danielle Grumbine, Benjamin's mom.
"We are incredibly grateful for the 16-year partnership we have with The People's Morning Show on 105.7 THE X and are just amazed by the support provided by their loyal listeners," said Katie Anderson, director of CMN Hershey. "Because of them and the community that rallies behind them, Pay 4 Play has raised more than $3 million for Children's Miracle Network at the Children's Hospital since it started in 2007. Thank you to everyone involved for funding pediatric research, family-centered programs, and equipment to give sick and injured children the Gift of Growing Up."
Sponsors of the event include Highmark, Cumulus Media, M&T Bank, Schaedler Yesco, Window Nation, Menasha, Universal Media, Hershey Entertainment and Resorts, Betty Butler, Members 1st Federal Credit Union, Karns, and TE Connectivity.