#ChildrensHospitalsWeek Local Events

J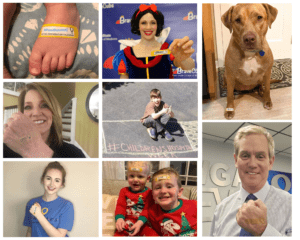 oin us as we celebrate Penn State Children's Hospital during #ChildrensHospitalsWeek April 19 -25.
Check out our engaging schedule of events, and consider making a donation that will be matched by Universal Media-Analytics and our stretch pool sponsors. Your gift will support the CMN Patient Assistance Endowment to help families facing financial burdens in addition to their child's medical diagnosis. After you donate, wear a bandaid with the name of a special child in your life and post a photo to help us spread the word. Together, we can give kids the #GiftofGrowingUp!
Monday – Friday
Hospital staff appreciation! Staff can enjoy a free coffee or hot tea (any size) at Penn State Children's Hospitals Treehouse Café sponsored by McQuaide Blasko and United Concordia Dental
Monday, April 19
Tuesday, April 20
Miracle Family Virtual Party, invitation only; sponsored by Hershey Entertainment and Resorts and The Hershey Company
Meet Miracle Child Lucia and view her "Day in the Life with Type 1 Diabetes"
Wednesday, April 21
7:30 a.m. Interview: Miracle Champion Joella on 105.7 the X presented by Cumulus Media
7 p.m. Dollars at Work: 3D Printing Facebook Live presented by The GIANT Company
Thursday, April 22
Virtual Gratitude Reception featuring remarks by NFL Hall of Famer Brian Dawkins, invitation only; presented by JPL
Friday, April 23
12 p.m. Dollars at Work Presentation: Pediatric Palliative Care & Bereavement Services sponsored by Members 1st Federal Credit Union
Thank you to all of our #ChildrensHospitalsWeek sponsors!