25th Annual Sporting Clay Shoot raises over $152,000 for CMN Hershey
The 25th annual Sporting Clays charity event raised more than $152,000 for Children's Miracle Network at Penn State Children's Hospital. The event, which was held Saturday, April 10 at Hummelstown Field and Stream, is organized by Penn State Health Milton S. Hershey Medical Center's Facilities department and friends.
This year, more than 200 people participated in the event.  In the past 25 years, this event has raised more than $1.71 million to help purchase life-saving equipment and support pediatric programs and research at Penn State Children's Hospital. It's also the top #CMNHershey fundraising event organized by hospital employees. Learn more at CMNHershey.org.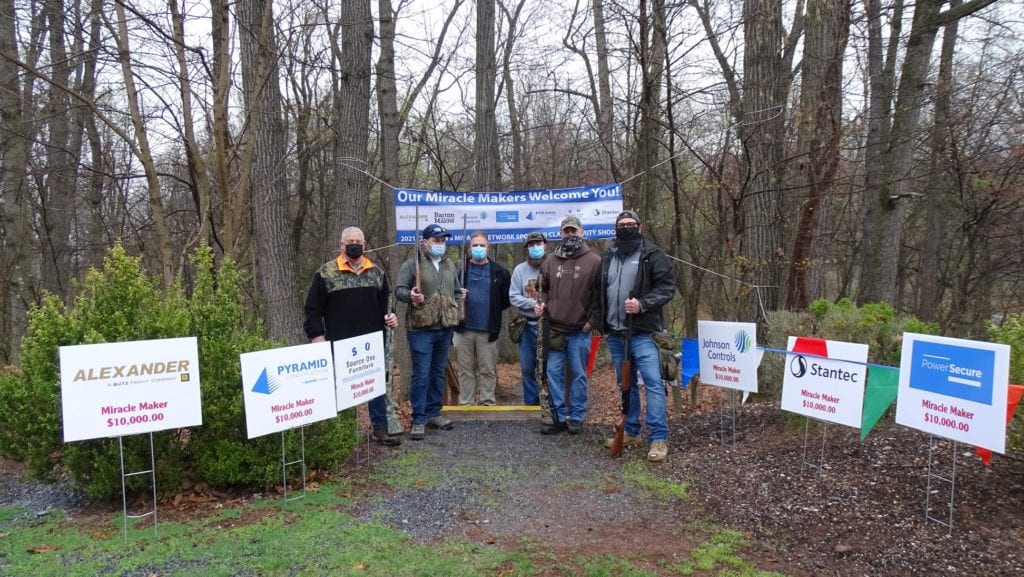 Thank you to all the incredible sponsors for helping give kids in central Pennsylvania the #GiftofGrowingUp.
Miracle Maker Sponsors
Alexander Building Construction Co. & Alvin H Butz Inc
Barton Malow
Johnson Controls
PowerSecure
Pyramid Construction Services, Inc.
Source One
Stantec
Platinum Sponsors
Benchmark Construction
McClure Company
Titanium Sponsors
Automated Logic
BDA Architects
Capital Construction Management
Facilities & Friends
Payette
Pevco
Spectra Contract Flooring
Whiting-Turner Contracting
Gold Sponsors
ADF Cable Construction
Airtec Environmental
BKM Associates
C A Hempt Estate
C Archer & Associates
Chicago Faucets
Clayco
Custer Excavating
Edwin L. Heim Company
Engineered Building Systems
Facilities Jeans Day
Facilities Survey
Gannet Fleming
HF Lenz Co
Hillis-Carnes
HKS
Hope Furrer Associates
Houck Services Inc
Key Painting & Decorating
Langan
Leach Wallace Associates
Lighthouse Electric
Martin Rogers Associates
Pennoni
PJ Dick
RETTEW Associates
RMF Engineering
RPC Video
SNO Services
Tab Works
Thaddeus Przybylowski
Tremco
Viozzi Sprinklers
Woodland Contractors Inc.
Silver Sponsors
B.R. Kreider & Sons
CadeCor Energy and Lighting
IKM Inc
John E. Fullerton, Inc.
K&H Custom Window Treatments
Mid-State Inc.
Miller and Bixler Auto Parts
Sheet Metal Specialists
SLH Excavating
TJ&M Services Inc
Tri-Dim Filter Co.
Triflow Corporation
Waste Management
Wohlsen Construction Company
Yeager Supply
Bronze Sponsors
24/7 Services LLC
Arthur Funk & Sons
ASCO Power Technologies
Bartush Sign Inc
Koch's Lawn & Garden Inc.
LandStudies, Inc.
NORR
Relocation Consulting & Management
Richard Froelich
Vladimir Musman
Special thanks to:
Chris Hare – UPMC Pinnacle