Lion-hearted and grateful: Kaeden returns to camp
Miracle Graduate Kaeden Rhoads is no stranger to conquering the rock wall or the zip line at Camp Lionheart – but that wasn't always the case.
"When I first came here, I didn't think I could get up a rock wall or I didn't think I could swim an entire lap around a pool, and I did all those things," he says.
Not for the Faint of Heart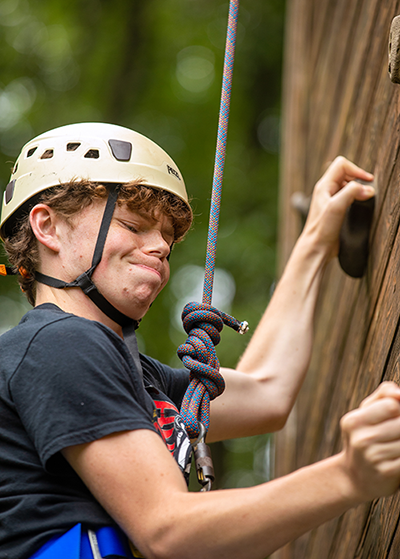 Kaeden is a teenager with a big heart and infectious energy, and when you first meet him, you would never guess that he was born with a congenital heart defect. However, as a young kid, Kaeden felt a lot of judgment from his peers—for not being able to safely participate in certain sports, or for having a large scar that goes from his ribcage to neck—a reminder of the four heart surgeries that helped to save his life.
Like many of the other kids at Camp Lionheart, he found an unexpected home and community under the trees of Kirchenwald.
"It's changed me," he says of the camp, the friends he has made here, and the counselors who pushed him beyond his comfort zone. "I think the main way is it's just made me a happier person. It's because I met people like me."
From Camper to Counselor
For the past four years, Kaeden has looked forward to his time at Camp Lionheart. Getting to spend time with other kids who had matching surgical scars and similar physical limitations helped him to understand that he is not alone – and to grow his own personal confidence.
"Before I went to this camp, I would be afraid to take off my shirt at a public pool. And you shouldn't be scared to take your shirt off in a public pool," he says. "I learned that it's okay to be different here, because the world outside of here sometimes doesn't really teach us that it's okay to be different."
Reflecting on the counselors who had an impact on him, he says, "They were all great mentors for me and I wouldn't be the type of person I am now if it wasn't for them."
This year, Kaeden has graduated from camper to counselor and hopes to mentor the next generation of kids who have CHDs. He wants the new campers to know that while it's good to set a goal for yourself and to reach for that goal, it's also important to know where your limits are and to respect them.
"Even if someone else can get up fifty percent of the wall, or maybe someone can get up seventy-five percent of the wall, or one hundred, it doesn't matter because everybody's different… and everybody knows what their limits are," he says. "That's something else we want to show the kids… you don't have to push your limits, because I know me being a kid, a lot of the kids made me push my limits because I didn't want to be left out."
On Gratitude and Giving Back
Kaeden has been involved with Children's Miracle Network Hershey as a Miracle Child since he was a young, energetic, freckled kid who lit up the room at every fundraising event. Now a young adult, Kaeden's appreciation for CMN has never faded.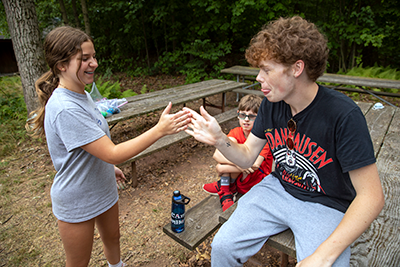 "Without Children's Miracle Network, I wouldn't be here today… and maybe some of these campers wouldn't be here today. I owe them my life."
For Kaeden, his second chance at life has given him a beautiful perspective on how to use the time that we have.
"I didn't have to make it at three days old, but I did. So obviously I have to be here for some reason. I just want to show these kids that… even if you have all everything stacked against you, you can still do whatever you dream of."
Watch more of Kaeden's camp journey: