Children's Miracle Network Creates Educational Equity Scholarship

Thanks to a $50,000 gift from The Hershey Company, Children's Miracle Network (CMN) at Penn State Children's Hospital is establishing an educational-equity scholarship at Penn State College of Medicine to support students from demographic groups that are underrepresented in medicine.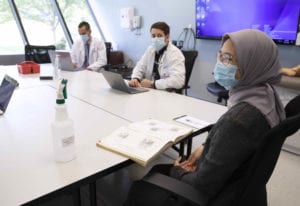 The $50,000 was doubled to $100,000 by Penn State's recently concluded Educational Equity Scholarship Matching Program. CMN's scholarship is one of 17 scholarships at the College of Medicine that have been established or strengthened through the matching program, which President Eric Barron announced in late June 2020 as part of the University's commitment to create a more inclusive and equitable institution.
CMN Advisory Board members and other individuals have also contributed, bringing the CMN scholarship's current total to $101,750. The funds will create an endowment that CMN hopes will ultimately reach a value of $1.8 million. The income from this invested fund will provide perpetual support to help future generations of students from underrepresented demographic groups. Additional gifts to this effort are welcome.
The Hershey Company's latest gift is part of their longstanding support of Children's Miracle Network at Penn State Children's Hospital.
"Fostering diversity and inclusion within our communities and workplaces is, and has always been, the right thing to do," said Michele Buck, chairman, president, and CEO of The Hershey Company. "Diversity is a source of energy and innovation, and this scholarship will provide new opportunities to develop leaders in healthcare that are more representative and inclusive of different cultures. In addition, I hope other local businesses and leaders will join me in personally funding other educational equity scholarships at the College of Medicine."
Many students graduate with an average medical school loan debt of more than $200,000, not including undergraduate loans. Although this is a burden for students from every background, it can be especially hard on those who come from groups historically underrepresented in higher education and medicine.
"I'd like to thank The Hershey Company for investing in scholarships for our students," said Dr. Kevin Black, interim dean of Penn State College of Medicine. "This latest gift will support current students, help us recruit more from communities that are underrepresented in medicine, and build an inclusive culture that contributes to equity in health care and scientific discovery for the diverse populations we serve. Along with the scholarships The Hershey Company has established, their continuous support for CMN, children's health and educational programs like global health demonstrate the company's commitment to building a healthier future for all."
According to Lynette Chappell-Williams, vice president and chief diversity officer at Penn State Health, students from demographic groups considered underrepresented in medicine comprise 23% of the average medical school class nationally. Penn State College of Medicine has seen a 3% decline in enrollment over the last five years, and just 10% of the incoming class of 2020 were from underrepresented demographic groups.

"Our research shows that cost is one of the top reasons students from these groups choose not to come here, and even just a few thousand dollars can make a great difference in a student's decision," said Chappell-Williams.
The College of Medicine has also established recruitment partnerships with historically Black colleges and universities, and available scholarship support will aid recruitment efforts.
"Scholarships alone can't erase the systemic injustice that some students face, but it's an important step in helping us build a more inclusive culture," affirmed Chappell-Williams. "One day, I'd love to see a physician who was helped by The CMN Educational Equity Scholarship provide Miracle Children with pediatric care!"
Donors can contribute to the fund online or by contacting Danielle Sunday, director of Children's Miracle Network at 717-531-5692 or dsunday@pennstatehealth.psu.edu.
About Children's Miracle Network at Penn State Children's Hospital
Children's Miracle Network Hospitals is a non-profit organization that has affiliations with 170 children's hospitals including Penn State Children's Hospital. Gifts raised locally through Children's Miracle Network (CMN) fund equipment, patient programs and pediatric research at Penn State Children's Hospital, which is the only children's hospital between Pittsburgh and Philadelphia fully equipped to treat the most severely ill children of central Pennsylvania. CMN's mission to save kids' lives and improve their quality of care is part of "A Greater Penn State for 21st Century Excellence," a fundraising campaign focused on three key imperatives: Open Doors, Create Transformative Experiences, and Impact the World.